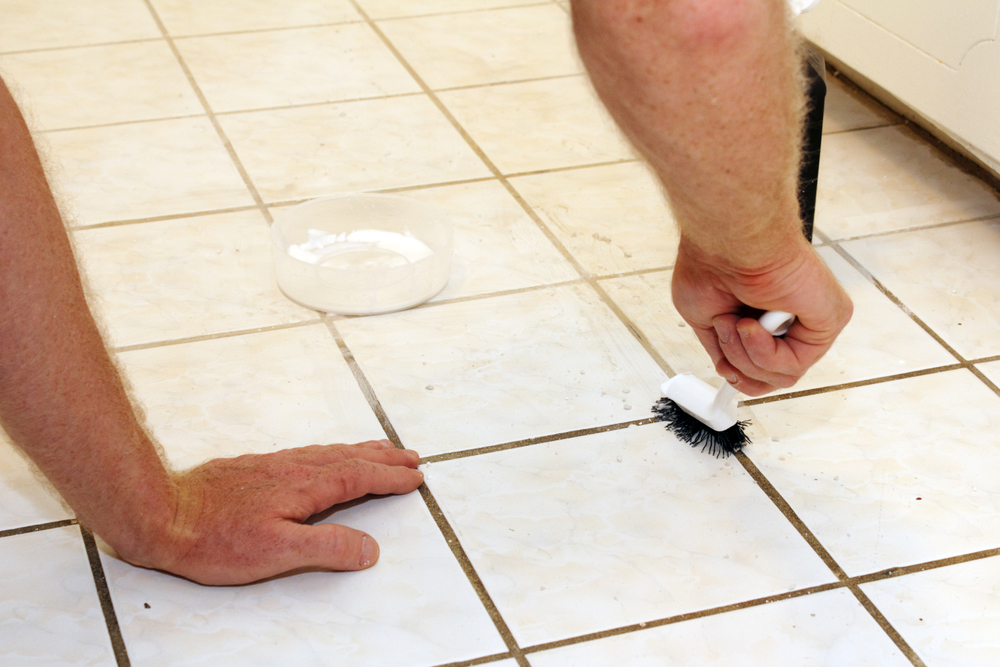 You did everything right.
You picked a beautiful grout color that accents your finishes and looked clean.
You clean it regularly and it just gets worse.
You have had it professionally cleaned…
but the dirty grout comes back.
You will be surprised how many new homeowners are surprised to learn they do not have gray grout but a bright tan. You are not alone. Even more surprising, architects report that even after specking to have their new tile floors sealed, 95% of the complaints they see on their brand new buildings in the first month deal with stained grout.
How can that be?
You are not alone. In some cases, the more you work at cleaning your grout the worse it looks. How can that be?
Answer: Vinegar and acidic cleaners.
The popular tile shop myth is that vinegar is a great tile cleaner. Replace vinegar with "acid" and realize there is a whole class of tile cleaners that contribute to this problem. Sure the tile is clean, but the grout seal is being destroyed, allowing the grout to be stained. In fact, it often will lighten the grout. Unfortunately, cleaning and lightening are two very different things, and in this case lightening is not a good thing.
Here are three reasons why you do NOT want to use vinegar or acidic cleaners on a tile floor:
Vinegar/Acid will leech the grout dye right out of the grout. The result is an ever lightening of the grout color all the way back to standard mortar gray.
Vinegar/Acid damage the penetrating seal that was installed on your grout. Your seal serves to convert what is normally a very porous surface (think rain on a concrete sidewalk porous), to a sealed surface that keeps liquids on top (versus in) your grout where you can clean it. Problem is most penetrating sealers are based on a class of chemicals called siloxane which have the unfortunate habit of reverting to their base raw materials in an acidic environment. Exactly what happens when an acid cleaner comes in contact with the grout surface. Over time one effectively washes your seal away. Returning your grout to a stainable, thirsty surface that will take on the color of the liquid it absorbs, including that beautiful brown mop bucket water you get after mopping your floors.
So cleaning with vinegar/acid cleaners will eventually result in your grout being lightened and then stained to a dark brown or black.
On the other hand, clean with a basic, alkali or non-acidic (doesn't have to be neutral just not acidic) and your grout will retain its original color and allow its seal to last longer for a cleaner more colorful grout surface.
…Of course if you are already facing a stained grout problem, a faded grout problem, or just want a different color. Call your local MARBLELIFE office and ask them about their COLORSEAL options. MARBLELIFE can clean, restore a uniform color, and seal your floors against further staining.
Then get the right product for the problem clean with MARBLELIFE Tile & Grout Cleaner or MARBLELIFE Marble & Travertine Cleaner for your marble surfaces.
Call MARBLELIFE at (888) 524-3372 or visit us online to secure your FREE ESTIMATE at www.MARBLELIFE.com or to www.MARBLELIFEPRODUCTS.com to secure the care products appropriate to your surface, and your desire for an easy effective cleaning solution.